How do I optimize my WordPress website for the search engine?
WordPress offers a very simple way to create a website. Now, of course, the question arises how I now make it to the top places of Google search.
Startseite » WordPress SEO
WordPress SEO
WordPress SEO is an indispensable topic for anyone who wants to create and manage a successful website.
Share article!
What is WordPress SEO?
WordPress is one of the most popular content management systems (CMS) and offers users a variety of options to optimize their websites for search engines. In this blog post, we are going to look at some important aspects of WordPress SEO and introduce the best plugins to help you optimize your website for better ranking in search results.
What basics should be met for your WordPress SEO?
To get started successfully with your website, you should consider the following points.
Hosting
The basis of your website is your hosting. A good host is crucial for your loading time in the front & back end of the website. The important thing here is that your hosting package must also include a database and an SSL certificate.
I can highly recommend ALL-INKL as a hosting partner.
Template of your website
The basic framework (template) of your WordPress site plays a very important role in your SEO progress. Here the following aspects are very important:
Loading time

Responsive design

Easy adaptation & customization of the design, preferably using a page builder.
I can recommend you the following templates:
On-page WordPress SEO
Optimizing your website starts with on-page SEO. These are actions taken on the individual pages of your website to increase their visibility and relevance to search engines. Among the most important on-page WordPress SEO techniques are:
Optimization of title tags and meta descriptions

Use of headings (H1, H2, H3, etc.)

Create SEO friendly URLs

Writing high-quality, relevant and unique content

Optimization of images (file size, file name and alt text)
Off-page WordPress SEO
Off-page SEO refers to actions that take place outside of your website to increase its authority and credibility. These include:
Link building(backlinks from other websites)

Social Media Marketing

Influencer Marketing

Content Marketing
How do I improve my SEO rankings in WordPress?
Basic settings
Now when you have set the hosting & template of your website, some basic functions have to be activated or edited at the beginning.
WordPress Permalinks: Under Settings / Permalinks, I would recommend you switch to "Post Name". This allows you to have so-called talking URLs, which are important for your WordPress SEO.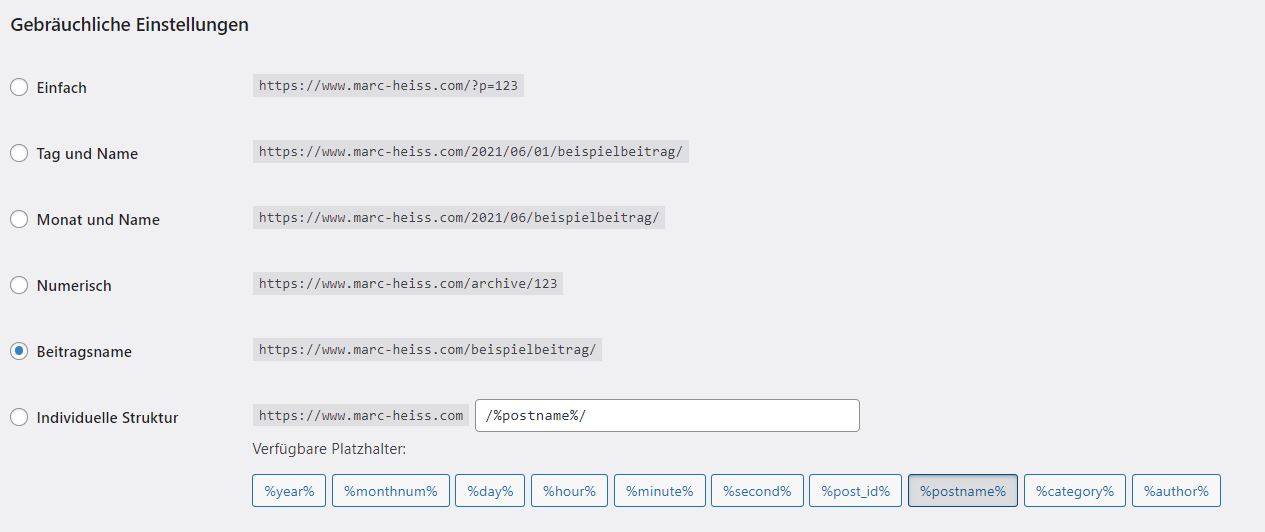 Allow indexing of the page: Under Settings / Read you must make absolutely sure that the check mark is not set for "Visibility for search engines", otherwise you will prevent indexing by Google and other search engines.
Which SEO plugins do I need for WordPress?
Basically, the following always applies: Only install plugins that you actually need and use. This keeps your installation uncluttered and can reduce load times.
Yoast SEO
The most important plugin for your WordPress site is Yoast SEO.
This plugin allows you to define important SEO metadata for your content pages, create an XML sitemap as well as various structural data.
I will now show you some of the most important settings:
XML Sitemap: Under SEO / Display in search you can define all content types which should also be included in your sitemap.
I generally recommend that you only include important pages in your sitemap.
I almost always exclude category & tag pages from my sitemaps. The same applies to archives, you just need to set the "Show posts in search results" switch to No.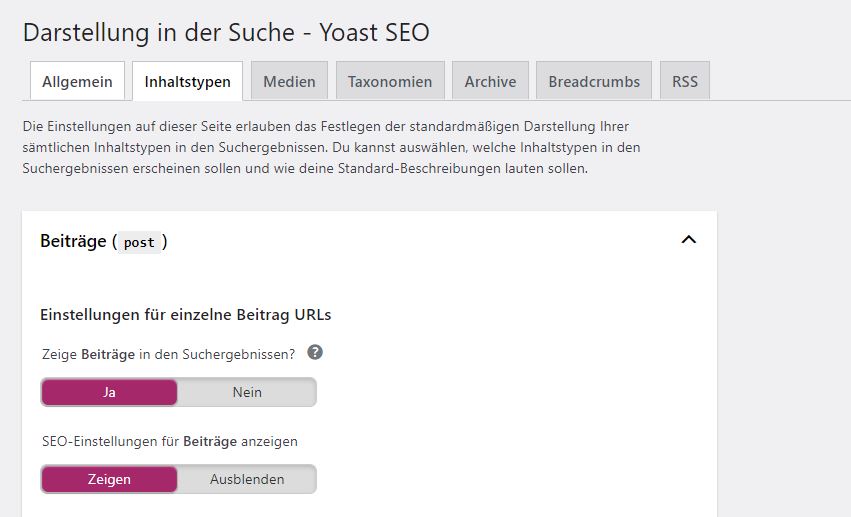 Metadata: One of the most important things for your search engine optimization is the so-called metadata. You need to define them for each of your pages. Here it is important that the respective keyword for which the page should rank is always included in the meta title and meta description.
In the following example, you can see the metadata for this article. Here we are talking about the keyword "WordPress SEO". Accordingly, this was also defined in the metadata.
You can find this metadata on each of your pages in the backend below the content window.
The practical thing here is that Yoast SEO directly shows you the character recommendation and you should therefore only make sure to stay in the green area.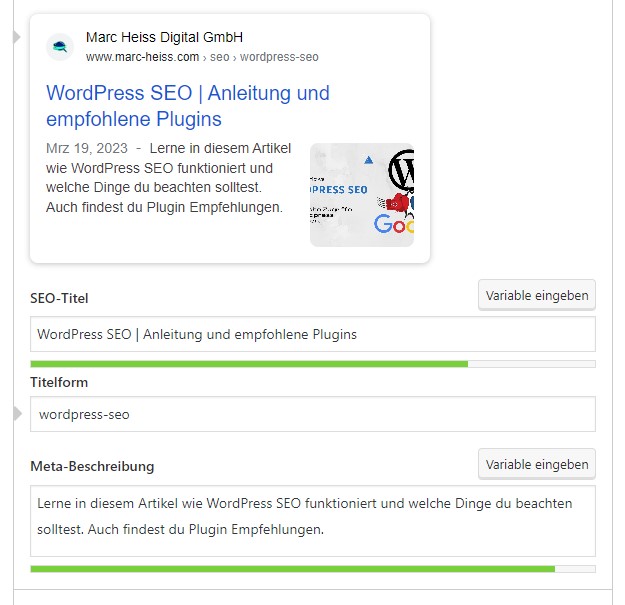 How do I optimize my load time for WordPress?
For SEO, your page load time is very important, especially since the Papespeed Update and Core Web Vitals.
To improve your loading time now, you should definitely pay attention to the following things:
Compress images: Images should always have the smallest possible file size before uploading them to the WordPress.
Avoid unnecessary plugins
Use caching for WordPress: Here I recommend you to install WPRocket, which is one of the best caching plugins for WordPress.
If you follow all these points, nothing will stand in the way of a very good score in Google Pagespeed Insights.
Closing words
WordPress SEO is a crucial factor for the success of your website. By implementing on-page and off-page SEO techniques and using effective SEO plugins like Yoast SEO, you can optimize your website for better rankings in search results. Take the time to analyze your website and make the necessary adjustments.
FAQ